AUSSIE HOOPS
  SKILLS SESSIONS 5-10 YEARS
Aussie Hoops is Basketball Australia's official introductory program for 5-10 year old. Aussie Hoops is a national program which provides an environment where children of all abilities can achieve on the court and reap the rewards of skill development, enhanced self-esteem, social co-operation and grassroots sports participation. Aussie Hoops is all about participation and fun.
SESSION DAY/TIME/VENUE
Term 4 Dates 2023:
Sun 22nd October to 10th December, 2023 (8 weeks)
TIME
9:00am to 10:00am
VENUE
Northern Beaches Indoor Sports Centre, Jacksons Rd, Warriewood, NSW, 2102
Term Dates 2024
Term 1 2024| Sun 18th February to 14th April, 2024 (Does not include Sun 31st March(Easter)). Booking online from 15th January, 2024
Term 2 2024| Sun12th May to 30th June, 2024. Booking online from 8th April, 2024
Term 3 2024| Sun 4th August to 22nd September, 2024. Booking online from 24th June, 2024
Term 4 2024| Sun 27th October to 15th December, 2024. Booking online from 23rd September, 2024
Aussie Hoops is an 8 week program 
Cost for a new participant is $175  which includes the backpack welcome pack (includes Backpack, stickers, singlet & Ball) or $170 for Drawstring welcome pack bag ( includes drawstring bag, stickers, singlet & ball)
or $120 for returning participants- No welcome pack
Welcome pack includes: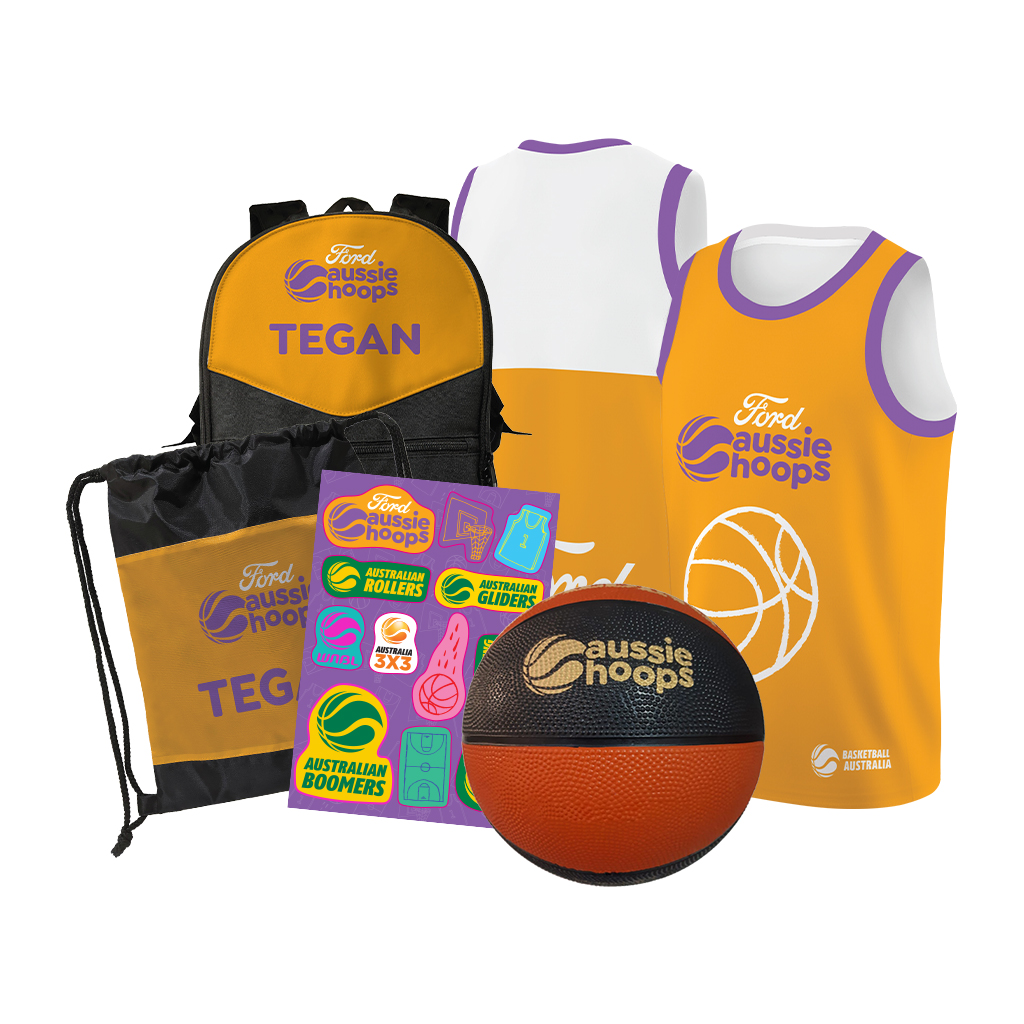 Size 4 or Size 5 Spalding Basketball– Modeled on Basketball Australia's official game ball.
Personalised Aussie Hoops singlet– With your child's name and Local Aussie Hoops delivery centre logo.
(Singlet size guide is available here)
Personalised Aussie Hoops Backpack or Drawstring Bag– Because every young baller needs something to carry their basketball gear in!
Sticker Sheet – Featuring Basketball Australia's National Teams.
Please wear comfortable clothing (supplied singlet in welcome pack) and runners with non-marking soles.
A filled water bottle with your name & mobile number clearly marked on it. 
Basketball supplied in welcome pack. Please have your name and mobile marked on the ball.